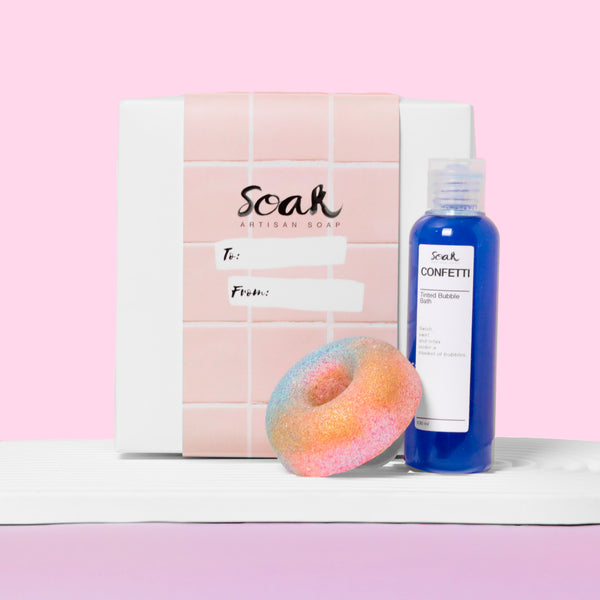 Bath Time Bestselling Duo Gift Box Set | Handmade Bath Bomb | Liquid Bubble Bath for Kids and Adults
₱490.00
---
We have 5 in stock.
Experience two of our best-selling bathtime treats. This gift set is suited for anyone who wants a fun, relaxing bath.
Swish, swirl, and relax under a blanket of bubbles. This bubble bath is suited for kids & adults.
Confetti Liquid Bubble Bath
A refreshing blend of Peppermint & relaxing Lavender. The love child of our two bestsellers, "Iced mint" & "Sweet Dreams."
 How to create bubbles? Bubbles don't just build by themselves. Roll up your sleeves and agitate the water to create mountains of bubbles. For best results, start when the water level is low.  
Yummy handmade bath bombs for the best soak ever! Pop in your bath and enjoy an explosion of color, skin-softening coconut oil, white kaolin clay, and a relaxing aroma that takes you on a mini-escape while in your bath.
 Our paraben-free bath bombs do not bubble. If you want a bubble bath, opt for our bubble bars & liquid bubble bath.
Chocolate Fudge Donut
Smells like:
Warm gooey chocolate fudge. Need I say more?
Bath Art:
Magically turns your bath water Pink.
Cruelty-Free | Handmade | Free From Harmful Chemicals | Paraben-Free
 Weight Approx: 60g each (Bath Bomb)
Approx: 100ml each (Liquid Bubble Bath)
Warning: Bath may get slippery.
 How To Use
Fill your tub with warm water. Then, pop in the tub & enjoy the show. 
*Each box is lined with white paper. 
How Do I Pay?

Soak accepts the following payment methods (to be selected at checkout):

PayPal
All Major Credit Cards & Debit Cards via PayPal
BDO & BPI Bank Deposit or Online Transfer
Gcash

How Long Does It Take To Process My Order?

As soon as payment is confirmed allow up to one working day for processing & courier pick up.

How Do I Track My Order?

A tracking number from the courier will be provided as soon as the item has been scheduled for pickup.

An automated email or SMS update will be sent out as soon as your parcel is in transit and when it's ready for delivery.

How Long Does It Take To Receive My Order?

Metro Manila & Greater Metro Manila Orders: 2-3 working days or Same day - Next day Pick Up

Provincial Orders: 5-7 working days

*No shipping, Pick Up & delivery on Sundays & Non-working holidays.
*We're open 9 - 5pm, Monday to Saturday.

Do You Have Same Day Pick Up?

Yes! You may select "Pick Up" upon check out.
We will be in touch as soon as website order payment is completed & it's ready for pick up.
You will book the courier via Lalamove, Grab, etc and you will settle the payment with the courier upon delivery.
*To get a shipping fee estimate, use the location pin "Chalkboard Gym Antipolo".
*Payment cut off time is 4 pm Mon-Sat, payment made after that will be scheduled for the next working day.
*This is a pickup point only, we won't be able to entertain other concerns or inquiries.
*Office hours are 9am - 5pm, Monday to Sat.


How Much Is Shipping?
Via Gogo Express
Metro Manila & Greater Metro Manila Orders: Starts at PHP 100
Provincial Orders: Starts at PHP 170

**These rates may vary due to weight and specific locations. To get a more accurate rate to proceed to checkout.
*Soak Artisan Soap will not be liable for any lost or delayed shipping once the parcel has been transferred to the courier.

*For any lost, delayed or damaged items incurred in shipping, please contact the respective courier for real-time updates.

For questions & concerns, contact us at soak@soakartisansoap.com or via our mobile or Viber 0995 8555256.